Cody is an American mutant in the Lovelyverse. He is a member of the Brotherhood, but not much of a believer in it.
Cody Frazier



Name:

Cody Frazier

Nicknames:

None

Code Name:

Zeus

Age:

37

Place of Birth:

Annapolis, MD

Family:

George Frazier (Father), Maria Frazier (Mother), Daniel Frazier (Brother)

Relationships:

None at the moment

Side:

Brotherhood
PersonalityEdit
Cody is an outgoing, goofy guy. He loves playing video games and hanging out. However, he is slightly aggressive and enjoys fights. He is very protective.
Appearance:
Cody has blonde hair that is slightly wavey and wild. He is 5'10 with a slim, muscular build. He has dark eyes and tan skin.
Biography:Edit
Cody was born not long after his brother had been kicked out of the house. He learned he was a mutant at a young age, but hid it from his parents so that he wouldn't befall the same fate as his brother. He made it though school and college, starting a band along the way, before telling his parents. They disowned him and kicked him out. He has spent the last ten years searching for his brother, his last remaining family.
Powers and Abilities:
Cody has the ability to manipulate electric currents. He can absorb, create, and control electric currents. He can only do this with machines and other materials that conduct electricity. He cannot control the electric impulses in human bodies or other living creatures. Cody is also immune to electrocution.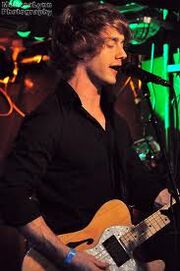 Fights with his power, fists, and swords.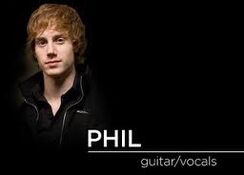 Born November 11th
Favorite videogames are Assasian's Creed and Legend of Zelda
Guitarist and Lead singer in his band